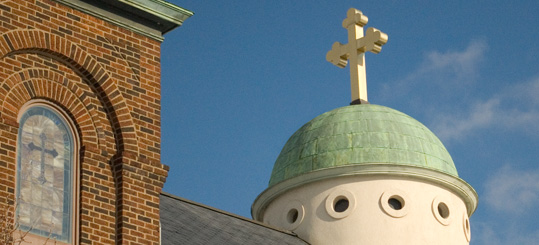 The parish of Saint George is the mother parish of all Orthodox Christian parishes in West Michigan. It was founded with the assistance of St. Raphael Hawaweeny in 1907. We have remained strong and faithful to the Faith we have received, and ever mindful of Saint Paul's words to the Thessalonians, "Stand firm and hold to the traditions which you were taught by us, either by word of mouth or by letter." (2 Thess. 2:15) And we are confident standing in the Church, for it is "the household of God, which is the Church of the living God, the pillar and bulwark of the Truth." (1 Tim. 3:15)
You will find amongst our people extremely warm and welcoming Christians who delight in sharing our rich heritage with visitors. Take time with our website and then come visit us. Come experience Orthodox Christian worship of the Holy Trinity, entering into the mystery of the love of God. Then join us downstairs for our coffee hour and meet a family of Christ which exudes its love for each other and for our cherished new friends.
No doubt you will find many things here that will interest you from our worship, community and the classes that are offered on week nights. We can't wait to welcome you to our parish.
Parish Calendar
Announcement
Today's Readings
Newest Video
YouTube responded to TubePress with an HTTP 410 - No longer available
Links